About
Allied Academies invites all the participants across the globe to attend International Conference on "World Dermatology and Cosmetology Congress", which is going to be held on September 3-4 2018 at Bangkok, Thailand. Dermatology and Cosmetology 2018 is an international occasion which brings together a completely unique and worldwide blend of big and medium businesses, leading universities and educational institutes and establishing a good platform throughout the globe.
This year the theme of the conference is Healthy skin is always in style.
CONFERENCE HIGHLIGHTS
Dermatopathology

Pedicure

Cosmetic Dermatology

Skin Cancer

Cosmetics

Plastic Surgery

Manicure

Bacterial Skin Diseases

Fungal Skin Diseases

Hair Transplantation

Facial Rejuvenation

Craniofacial Surgery

Cosmetic surgery

Advancements in Cosmetology

Advancements in Dermatology

Psoriasis

Laser Treatment

Alopecia

Cosmetic Dentistry

Aesthetic Medicine

Vitiligo
TARGET AUDIENCE
Dermatologists

Cosmetologists

Doctors

Skin Care Experts

Researchers

Scientist

Entrepreneurs

Manufacturing Companies

Hair Care Experts
WHY TO ATTEND?
Allied group is organizing a global event on world Dermatology and Cosmetology Congress which is going to bring all the eminent speakers, keynote speakers, business men, exhibitors, researchers together on one platform for global networking.
Welcome Message
World Dermatology 2018 cordially invites all the delegates, keynote speakers, Dermatologists, Cosmetologist, Business men, Doctors, Researchers, Students, Exhibitors and poster presenters across the globe to attend the International conference on Dermatology and Cosmetology Congress which is going to be held on September 3-4 in Bangkok,Thailand.
Allied Academies Publication is a union of several esteemed academic and scientific associations known for promoting scientific spirit. Allied Academies was established in the year 1997 by Andrew John. Allied Academies organizes World Dermatology and Cosmetology 2018 conference along with 300+ Conferences across USA, Europe and Asia every year with support from 1000 more scientific societies and Publishes 400+ Open access journals which contain over 30000 renowned personalities as editorial board members.
Scientific Sessions
SESSION 1: Dermatopathology
Dermatopathology is a combination of dermatology and pathology and to a lesser extent of surgical pathology that specializes in the have a look at of cutaneous sicknesses at a microscopic and molecular degree. It additionally encompasses analyses of the capacity reasons of skin diseases at a primary stage. Dermatologists are able to apprehend most skin diseases based on their appearances, anatomic distributions, and behaviour. Sometimes, however, those standards do now not allow a conclusive prognosis to be made, and a pores and skin biopsy is taken to be tested under the microscope or are subject to other molecular checks. That system well-known shows the histology of the sickness and effects in a selected diagnostic interpretation. In some cases, extra specialized checking out desires to be performed on biopsies, inclusive of immunofluorescence, immunohistochemistry, electron microscopy, float cytometry and molecular-pathologic evaluation.
Anatomical pathology

Surgical pathology

Clinical pathology

Skin lesion

Digital Pathology
SESSION 2: Pedicure
A pedicure is a beauty remedy of the toes and toenails, analogous to a nail cutting. Pedicures are performed for beauty, healing purposes. They are famous at some point of the sector, and particularly amongst ladies. Pedicures consist of care no longer simplest for the toenails; dead skin cells are rubbed off the bottom of the toes the usage of a rough stone (often a pumice stone). Skin care is regularly supplied as much as the knee, along with granular exfoliation, moisturizing, and massage.
Spa pedicure

Paraffin pedicure

Stone pedicure

Chocolate pedicure

Wine pedicure
SESSION 3: Cosmetic Dermatology
Cosmetic dermatology focuses on improving appearance of skin, hair, nails. Attaining and maintaining wholesome, younger pores and skin is a priority. These products or cosmeceuticals have higher concentrations of clinical-grade substances for fighting age-related skin troubles. They also are pharmaceutically formulated and researched to make certain balance and stability.
Lipo suction

Face lifts

Acne

Scars

Age spots
SESSION 4: Skin Cancer
Skin cancers are cancers that arise up from the skin. They are due to the development of extraordinary cells that have the ability to invade or unfold to other parts of the body. There are 3 fundamental types of skin cancers: basal-cell skin cancer (BCC), squamous-mobile skin cancer (SCC) and melanoma. The first one with a less number of common pores and skin cancers, are called non melanoma pores and skin cancer (NMSC).Basal-mobile most cancers grows slowly and can harm the tissue round it but is not going to unfold to distant areas or bring about loss of life. It often seems as a painless raised area of skin that can be shiny with small blood vessel running over it or can also gift as a raised region with an ulcer. Squamous-cellular skin cancer is more likely to spread.
Basal cell skin cancer

Squamous cell skin cancer

Melanoma

Biopsy

Radio therapy

Vitiligo
SESSION 5: Cosmetics
Cosmetics are materials used to beautify or regulate the arrival or fragrance of the body. Many cosmetics are designed to be used of applying to the face and hair. They are generally combos of chemical substances; a few being derived from herbal sources (consisting of coconut oil), and a few being synthetics. Common cosmetics include lipstick, mascara, eye shadow, foundation, rouge, pores and skin cleansers and pores and skin creams, shampoo, hair styling merchandise (gel, hair spray, and so forth.), perfume and cologne. Cosmetics implemented to the face to decorate its look are frequently called make-up or makeup.
Primer

Lip stick

Concealer

Foundation

Face powder

Eye shadow
SESSION 6: Plastic Surgery
Plastic surgery is a surgical distinctiveness related to the recovery, reconstruction, or alteration of the human body. It can be divided into categories. The first is reconstructive surgical operation which incorporates craniofacial surgical operation, hand surgical procedure, microsurgery, and the remedy of burns. The other is cosmetic or aesthetic surgery. While the objective of reconstructive surgical operation is to reconstruct a part of the body or to improve its functioning, cosmetic surgical treatment aims at improving the advent of it. Both of these techniques are being used at some point of the sector. Plastic surgery current global market is about $20 billion and it may rise to over $27 billion by 2019.
Burn surgery

Hand surgery

Micro surgery

Pediatric plastic surgery
SESSION 7: Manicure
Manicure is done for finger nails and hands. Manicure may also include painting of pictures or designs on the nails. Even artificial gel nails or acrylics are applied. Since skin is manipulated and is sometimes trimmed, there is a certain risk of spreading infection because tools are used across many people, therefore hygiene is a serious issue.
French manicure

Hot oil manicure

Dip powder manicure

Paraffin wax
SESSION 8: Bacterial Skin Diseases
The skin gives an amazingly respectable irritation towards bacterial illnesses. Though numerous microbes engage with or live on the pores and skin, they may be regularly now not capable to build up a contamination. Minor bacterial infections may resolve without treatment. But persistent and serious bacterial infections are treated with antibiotics. It is best to take samples to test which organism is responsible for an infection before treating with antibiotics. If the infection is serious immediate treatment with broad-spectrum antibiotic may commence. Once the specific organism causing infection has been determined, the antibiotic may be changed to a narrow-spectrum antibiotic directed against this organism. Antibiotics have important individual risks and societal impact and should not be prescribed or taken if they are not required.
Pneumonia

Cholera

Diphtheria

Anthrax

Sepsis
SESSION 9: Fungal Skin Diseases
Fungi can live in the air, soil, water, and plants. There are also some fungi that live naturally in the human body. Most fungal skin infections can be treated with prescription creams. Cancer treatment and diabetes may also make a person more prone to fungal diseases.
Tinea infection

Aspergillosis

Candidiasis

Coccidioidomycosis

Blastomycosis
SESSION 10: Hair Transplantation
Hair transplantation is a surgical technique that requires relocating hair follicles from one part of the body to the other part where hair is not present. Primarily it is used to treat male pattern baldness. Research is going on the stem cells and dermal papilla cells which are found in hair follicles. Research on these cells may lead to success in treating baldness through hair multiplication which is also known as hair cloning.
Harvesting methods

Strip harvesting

Follicular unit extraction

Robotic hair restoration
SESSION 11: Facial Rejuvenation
Facial rejuvenation is cosmetic treatment which aims to restore the youthful appearance of the human face. This treatment can be done in both surgical and non-surgical procedures. Surgical procedures target on abnormalities like skin alteration, facial reconstructing. Non-surgical procedures target on abnormalities like wrinkles, scars, hyper pigmentation.
Chemical peels

Cosmetic acupuncture

Electrotherapy

Facial toning

Laser resurfacing
SESSION 12: Craniofacial Surgery
Craniofacial surgery deals with the deformities of head, skull face, neck, jaw and related structures with it. Craniofacial surgery deals with bone, skin, nerve, muscle, teeth etc. This operation involves taking a bone from one place and replacing it in another place to fill the gap. Risk of infection is less if patient's own bone is used for surgery instead of artificial materials. Craniofacial surgery on the face and the skull are slightly painful.
Craniosynotosis

Cleft lip and palate

Craniofacial macrosomia

Apert's syndrome

Treacher Collins syndrome
SESSION 13: Cosmetic Surgery
Cosmetic surgical procedure is an elective or non-compulsory surgical operation that is accomplished on regular components of the frame with the simplest cause of improving someone's appearance and/or putting off signs and symptoms of getting older. In 2014, almost sixteen million beauty procedures have been done in the United States. The variety of cosmetic techniques achieved within the United States has almost doubled for the reason that begins of the century. 92% of beauty procedures were performed on ladies in 2014, up from 88% in 2001. Nearly 12 million beauty tactics were performed in 2007. The American Society for Aesthetic Plastic Surgery seems at the statistics for 34 one of a kind beauty tactics. Nineteen of the approaches are surgical, such as rhinoplasty or face lift. The nonsurgical procedures consist of Botox and laser hair removal. In 2010, their survey revealed that there were 9,336,814 overall techniques inside the United States. Of the ones, 1,622,290 approaches have been surgical.
Abdominoplasty

Blepharoplasty

Phalloplasty

Mammoplasty

Cryo lipolysis
SESSION 14: Advancements in Cosmetology
Cosmetology includes few branches like hair styling, healthy skin, beautifying agents and pedicure. Different techniques include Esthetics: technique of applying makeup, waxing and reflexology. Nail technology: technique of applying gels to nails and shaping of nails. Educator training: program of directing cosmetologist for future use.
Esthetic

Trichologist

Reflexology

Electrolysis
SESSION 15: Advancements in Dermatology
Dermatology is one of the areas of medication where in a specialist can be both health practitioner and doctor, treating malignant and non-malignant disorder in a population ranging from babies to adults. In recent years, dermatology has included techniques and remedies from different disciplines, together with genetic research and the use of immunosuppressive dealers and revolutionary paintings inside the rapidly expanding area of laser remedy has broadened the diagnostic and healing horizon. Advances inside the information of dermatological conditions have allowed dermatologists to refine therapies.
Actinic Kerotoses

Pre-cancerous lesion

Rosacea

Eczema

Atopic Dermatitis
SESSION 16: Psoriasis

Psoriasis is a long lasting autoimmune sickness characterized with patches of abnormal epidermis. These skin patches are customarily pink, itchy, and scaly. Psoriasis varies in severity from small, localized patches. Harm to the skin can trigger psoriatic dermis alterations at that spot, which is known as the Koebner phenomenon. There are five foremost types of psoriasis: plaque, guttate, inverse, pustular, and erythrodermic. Plaque psoriasis, also known as psoriasis vulgaris, makes up about ninety percentage of instances. Common symptoms are pink patches with white scales on top. Areas of the body mostly affected are the back of the forearms, shins, navel subject, and scalp. Guttate psoriasis has drop-formed lesions. Pustular psoriasis presents as small non-infectious pus-filled blisters. Inverse psoriasis forms pink patches in dermis folds. Erythrodermic psoriasis occurs when the rash turns into very widespread, and may develop from any of the other varieties. Fingernails and toenails are affected in maximum people when effected with psoriasis.
Plaque Psoriassis

Guttate Psoriasis

Pustular Psoriasis
SESSION 17: LaserTreatment

Laser surgery is a type of surgery that uses a laser to cut tissue A range of lasers such as erbium, dye, Q switch lasers and CO2 are used to treat various skin conditions including scars, vascular and pigmented lesions, and for photo rejuvenation. The laser surgeries for dermatology often bypass the skin surface. The principle of laser surgery for dermatologic problem is based on SPTL (selective photo thermolysis). The laser beam penetrates the skin until it encounters chromophore which absorbs the laser beam. After absorption of the laser beam, heat is generated to induce coagulation, necrosis of the targeted tissue, this result in removal of unwanted tissue by laser surgery.
Dermatology and plastic surgery

Endovascular surgery

Foot and ankle surgery

Eye surgery

Oral and dental surgery
SESSION 18: Alopecia

Alopecia areata, often referred to as spot baldness, is a problem in which hair is lost from some or all areas of the body. In a few, all of the hair on the scalp or all body hair is misplaced and loss can also be permanent. Alopecia areata is believed to be an autoimmunedisease. Among same twins if one is affected the opposite has 50% of risk being affected. This mechanism includes failure by the body to recognize its own cells with subsequent immune mediated destruction of the hair follicle. Efforts are made to increase hair regrowth by cortisone injections. Use Sunscreen, head coverings to defend from cold and. In some cases, the hair regrows and the does now not reoccur. In other cases, hair loss and regrowth occur over years. About 2% of individuals are affected in the united states.
Rheumatoid arthritis

Type 1 diabetes

Celiac disease
SESSION 19: CosmeticDentistry


CosmeticDentistry is used to recommend to any dental work that enhances the looks of enamel, gums or possibly chomp. It nearly concentrates on change dental surface in shading, function, shape, size, association and normal grin appearance.
Lighting up, or "tooth blurring".

Tooth Estimation Inconsistency.

Dental scaffolds

Concealment

Dental inserts
SESSION 20: AestheticMedicine

Aestheticmedicine is a specialty that target for better cosmeticappearance that include skin conditions like scars, skin laxity, wrinkles, moles, liver spots, excess fat, cellulite, unwanted hair, skin discoloration, and spider veins. More commonly, aesthetic medicine includes dermatology, reconstructive surgery and plasticsurgery. Aesthetic medication includes both surgical strategies (liposuction, facelifts, breast implants, Radio frequency ablation) and non-surgical tactics (radio frequency dermis tightening, non-surgical liposuction, chemical peel).
Photorejuvenation

Permanent makeup

Contour threads

Market Analysis
Global Dermatology market is valued at $20.0 billion and is expected to grow at compound annual growth rate (CAGR) of 7.73% reaching $33.7 billion in 2022. The dermatological conditions are the most common type of disorders existing in the world. About one third of US population suffers from one skin problem. Acne is the largest market segment of the dermatological diagnosis market accounting for 28.7% of total therapeutic market followed by psoriasis (26.4%), rosacea (14.9%) and atopic dermatitis (9%).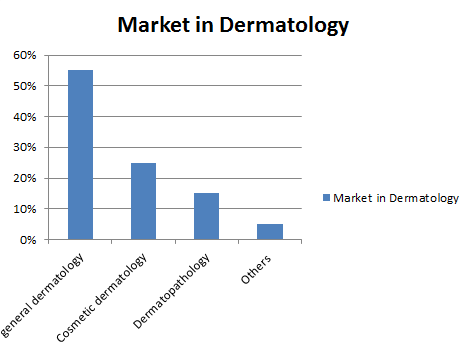 Global Cosmetic market is expected to reach $429.8 billion by 2022, registering a CAGR of 4.3%. Asia-Pacific region is the biggest market for cosmetics, followed by North America and Western Europe. Rising demand for herbal cosmetics is prompting the leading manufacturers to launch new herbal cosmetic products. In Dec 2014, Skin Food Brunei launched series of premium lettuce and cucumber watery line, which is customized for dry skin. In March 2015, Unilever acquired REN Skin Care. L'Oréal Paris is the most valuable cosmetic brand with a 10.2% share of market followed by Gillette and Nivea.
Market of Cosmetic products